Art
The Art Department of South Texas College, through excellent teaching and service to our community, promotes an enhanced awareness of the role of art in our society. Our purpose is to provide a stimulating environment that encourages lifelong learning, promotes cultural awareness, and enriches the quality of life in Hidalgo and Starr counties through creativity and study.
The Associate of Arts in Fine Arts with a Visual Arts Concentration and the Associate of Arts in Graphic Arts are programs of study that combine studio courses in art and design with a broad range of liberal arts courses. Both two-year degree programs prepare students for creative positions in the workforce, and provide skills, values, and knowledge in the liberal and creative arts. Additionally, students are prepared for transfer into university bachelor's degree programs and are trained in exhibit and portfolio preparation.
Get Started!

Apply Now

Get Enrollment Info

1-855-Go-To-STC
Degree Plans Faculty Part-Time Faculty Staff Resources
Associates Degrees
Fine Arts
Graphic Arts
Click each name for more info
Faculty

| Name | E-mail | Phone | Location |
| --- | --- | --- | --- |
| Ballinger, Patricia | phballin | 956-872-3551 | Pecan Y 1.304H |
| Brown, Rachael | rfbrown | 956-973-7606 | Mid-Valley G 134 |
| Comminos, Alexander | acommino | 956-872-7602 | WESL PB1-A4 |
| Corpus, Luis | lacorpus | 956-48876981 | STARR J-129 |
| England, Nathan | gengland | 956-872-5633 | Pecan Y 1.304E |
| Leverich, Phyllis | pleverich | 956-872-2668 | Pecan B 118 |
| Freeman, David | dmfreema | 956-872-8385 | Pecan B 125 |
| Garcia, Ed | egarcia | 956-872-6701 | Pecan B 124 |
| Leonard, Chris | cpleonar | 956-872-7224 | Pecan B 121 |
| Matthews, Tom | tlmatthews | 956-872-3471 | Pecan B 117 |
| Mendoza, Heaven | hmendoza_2259 | 956-447-6661 | WESL G-139 |
| Neumann, Charles | cneumann | 956-872-2188 | Pecan Y 1.304F |
| Nicol, Scott | slnicol | 956-872-6702 | Pecan Y 1.304Q |
| Perez, Pedro | pjperez | 956-872-3468 | Pecan B 123 |
| Smith, Richard | richard | 956-872-3478 | Pecan B 119 |
| Tamez, Sarah | stamez_8891 | 956-872-6769 | Pecan PB26A-E |
| Terry, Melissa | mseifert | 956-872-6769 | |
| Vestweber, Carl | cvestweb | 956-872-6769 | Pecan PB26B-B |
For faculty not listed, please contact the department.
Part-Time Faculty

| Name | E-mail | Phone | Location |
| --- | --- | --- | --- |
| De La Fuente, Ruby | rgarcia_1615 | 956-872-6769 | |
| Quintero, Eduardo | equinte7 | 956-872-6769 | |
For faculty not listed, please contact the department.
Staff

| Name | E-mail | Phone | Location |
| --- | --- | --- | --- |
| Ellsworth, Deborah - Secretary | dellswor | 956-872-6769 | Pecan Y-1.304W |
| Gonzalez Jr., Freddy - Art Gallery Assistant | fgonza14 | 956-872-2501 | Pecan B 116 |
---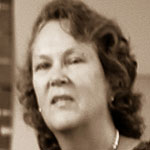 Patricia Ballinger
Art Instructor
I was born and raised in Mexico City by a family that was very interested in both the performing and visual arts. Our home was and still is full of art covering the walls and tables. Travel, learning and living within different cultures has led me to love and understand different ways of thinking.
My professional life has led me to many of the different fields of art. These include being an artist, Creative Director for Helena Rubenstein, Exhibit Director for both historical and art museums, working for a private collector that toured his collection throughout the United States and to Russia, and even owning my own gallery. Since coming to the Valley, I have worked at IMAS as Exhibit Director, Gallery Director at The University of Texas-Pan American and helped create an Art Curriculum for IDEA Public Schools. At South Texas College, I am now doing what I enjoy the most, which is teaching others to enjoy the visual arts and all it has to offer.
Art History has led me to be very interested in the spiritual realm that all periods and cultures have visualized. The similarities that exist have me intrigued. My interest has grown and centered into the importance and place that the Goddesses, the Virgin Mary, and Virgen de Guadalupe have held through the ages and how their images may change and yet remain the same. The focus of my own artwork is meditation, spirituality and finding the Goddess in my work.
Contemplation

Blessed Bee III

The Judge

Go in Peace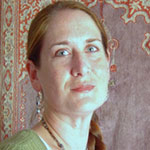 Rachael Brown
Art Instructor
Rachael F. Brown has been teaching with STC's Art Department since 1997. Her background is in Art History, Museum Education, and Archeology, to which she added an MFA (2D) in 2006, and a Certificate in CJEA (Creative Wellness) in 2009. Creative Wellness allows students to use their creativity to de-stress and work through challenges, rather than specifically make art for public consumption. Rachael has a strong interest in guiding her students in their discovery of creative talent and practice of artistic discipline. She believes it's important for students to discover and appreciate their own creativity as well as that of others. Ultimately, teaching art is most rewarding because art demonstrates that we are all united as humans, and at the same time, we can express our individuality through creativity
To Visit Rachael Brown's South Texas Civil Rights Project New Office Mural press here
South Texas Civil Rights Project New Office Mural by Rachael Brown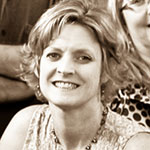 Phyllis Evans
Art Instructor
An Installation Celebrating Banned Books
The intent of this installation is to celebrate intellectual freedom and to remind library patrons of their constitutionally protected freedom to read what they please.
Embedded in the stacks throughout the library are a number of books that have been sealed shut and rendered completely inaccessible with encaustic, which is a mixture of beeswax and resin. Through a small hole drilled in each cover, an authoritative eye peers out from the frontispiece, seeing all who try to gain access to its forbidden pages.
Each of the books used in this installation has a history of being banned, challenged, or censored for social, political, moral, or religious reasons. A great many cases have involved the removal of books from school and public libraries, as well as from classroom required reading lists. There are also books that have been banned by state authorities, some having been subjected to public book burning events. Inside the front cover of each book is a card that gives an account of why and where the book was banned, challenged, or censored, and by whom.
Visitors to the library are invited to search the stacks for the banned books, which can be located by their Library of Congress catalogue card numbers. Visitors will find these books "SEALED FOR YOUR OWN PROTECTION" by an unnamed authority that keeps a constant surveillance over all intellectual activities, and deems the contents of the book dangerous to the individual or to society at large.
The true danger, however, lies in the inaccessibility of the information held within. As Americans, we are granted intellectual liberties that people in many other societies do not enjoy. Yet in our post 9/11 society, we find ourselves faced with many of the same restrictions on intellectual liberty that 20th century authors like George Orwell, Ray Bradbury, and Aldous Huxley predicted in their dystopian fictions. It is of utmost importance that we do all we can to stop any threats that might take these liberties away. I hope this installation will serve as a reminder of the preciousness of our constitutionally granted rights to unrestricted intellectual freedom.
"They who would give up an essential liberty for temporary security deserve neither liberty or security." - Benjamin Franklin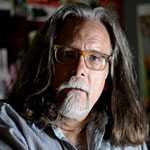 David Freeman
Art Instructor
Text written by Travis Whithead for The Monitor
Empty eyes stare out from the blue mask, static satellite tower looming from the forehead.
Nearby, religious luminaries found by artist David Freeman in Mexico radiate with light through images of the Last Supper and other scenes. Prickly seashells surround a crucified Christ, and satellite towers covered with colorful beads spread across a table; bowls depict more towers rising over pristine waterfalls gushing from lush jungles into rippling lakes.
"David Freeman: Unstoppable Imagination of Information for Change," which opens July 18 at the Brownsville Museum of Fine Art, addresses a number of themes including misuse of technology and the importance of folk art.
"I'm trying to take artisans' work that we don't notice, that you just kind of walk by and see as a touristy kind of an artifact, that we don't give a serious look," said Freeman, 55, art instructor at South Texas College. Freeman, who's also curator and programs coordinator of the school's library art gallery, was preparing some of his pieces in his studio before transporting them to Brownsville.
"It's the difference between looking and seeing something," Freeman said. "We just kind of walk by these things all the time without giving them notice."
Freeman, who also is editor of Voices of Art Magazine, works in a wide variety of media, said Jennifer Cahn, curator for the Brownsville museum.
"There is a lot of intricate detail and a lot of ideas behind it," she said. "He's definitely working on the intellectual level as well as the aesthetic level. He's very passionate about politics, and about promoting the arts and getting the community involved. And that energy comes across in his artwork, as well. Sometimes it can be frenetic, and sometimes it's calmer and more contemplative. All of the work, I find intriguing, and it has an energy to it."
The masks with the satellite towers warrant further discussion. Freeman, who also has a residence and studio in San Antonio, got the idea for the masks while "walking the streets of Mexico."
"I've always been interested in primitive folk art, because it does have this wonderful belief system and this faith system that's so different than the dogma of religion," he said. "To me it's much more spiritual, and it's based in something that's very, very genuine, and I want to replicate that."
Freeman hired someone to make the masks with the satellite towers; the towers represent technologies which, in Freeman's view, have the potential of spreading meaningful as well as incomplete information.
"It's the whole idea of information being power," said Freeman, who is also constructing several towers from bamboo one from spatulas.
"We don't get the right information, especially with the last government," he said. "We just didn't get the right information, and they used whatever information they gave us for their own agenda. I mean, yeah, Saddam was a demon and needed to be removed, but did we need to go over there and invade to take out that one man? Of course it's about oil, but they're not letting us know it's about oil."
Freeman points out that people in everyday life often misuse technology such as Facebook and Twitter to spread irrelevant information.
"We can waste a lot of time with personal opinions that mean absolutely nothing, without being able to come to a consensus," he said. "I think we need to read a lot more. I think we need to read published authors and artists, information that's been validated somehow, and not just every Tom, Dick, and Harry that's got an opinion."
In a sense, Freeman's love of folk art and his message about technology come together in the masks, which are folk art, and in the satellite towers. Perhaps the masks represent the primal and authentic spirituality of folk art, and the satellite towers communicate the deception of contemporary life in which modern man loses contact with his own soul, lost in a sea of bewildering and disjointed knowledge.
"It's like, all the tourists come to Mexico and then spend 20 bucks on a T-shirt, and dinner, and a wrestling mask, but it just sits somewhere on their kid's desk or on some shelf," he said. "You know how all that touristy stuff just gets put out in your next flea market or your yard sale. So it's a way of letting us see our own back yard a little bit, a little more focused."
Much of the folk art he has collected from both sides of the border has religious scenes. One of the luminaries, with electric bulbs, depicts the Last Supper with metallic green, violet, and blue radiating from each head. Another shows the Virgin Mary with the Baby Jesus surrounded by flowers. Still another contains an image of Virgin Mary in a blue cape.
"When I was a child, I went to Sunday school," said Freeman, who spent much of his life in Libya where his father worked in the oil industry.
"I loved the Bible, illustrations, all kinds of illustrations," Freeman said. "I was brought up in a Christian household, take you to church every Sunday, do all the religious ceremonies. You kind of daydream and look at all the illustrations as opposed to listening to the religious sermons and lectures. So, I've always been attracted to biblical paintings, all of the great masters, all of the great museums all through Europe."
While growing up in North Africa, his parents would take him and his brother to Europe, where they visited the art museums.
"They had these wonderful biblical paintings that showed people on the cross, and the crucifixion is a very violent kind of thing," he said. "But if you're a child, you're interested in those kinds of things, they really get your attention. I've always been attracted to that biblical kind of illustration, and those biblical paintings by the great masters. They've always been very noticeable. They are dramatic, and they are dark and brooding."
That's what attracted him to the luminaries.
"They are really brightly colored," he said. "They turn, they have light in them, all those wonderful mechanics, and the visual efforts that they put in there are really really attractive. And I like them just for what they are. There's a wonderful kind of religious message there."
Freeman says his collection of Catholic icons doesn't have a direct connection with the satellite pieces. His purpose with them is to simply present them together in a big installation.
"That's a separate kind of compulsive thing that I've been doing since I got here," he said.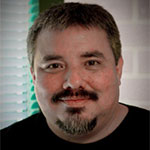 Ed Garcia
Art Instructor
His haunting yet humorous images speak of Mexican traditions and values with an investigation into Hispanic superstitions and myths. Garcia is inspired by diverse influences from Francis Bacon and Edgar Allen Poe, to California Chicano Artists. He obtained his MFA at The University of North Texas and his BFA at The University of Texas Pan-Am.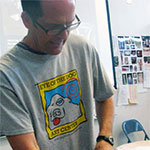 Chris Leonard
Art Instructor
Artist's Statement
Just what am I making? If I were decidedly effective in my artistic endeavors through action and energy I'd arrive at a sensation of elemental power. The twenty-first century in America, there are so many choices! But are these choices always clear? I seem to find myself meandering off into symbolic meaning, metaphysical speculation, and contemplative moods. As soon as I answer one question and solve a problem another three or five invariably show up. What I want is a smile on the face, a twinkle in the eye, a healthy glow in the gut, and maybe even a friend to confide in. If I don't have these things, I've decided to make them. With time seemingly passing faster and faster and my own children almost grown and gone, allusions to specific concerns and events may be more apparent in unfolding work as current events, personal preoccupations, and political upheaval push memory, imagination, and observation into new areas. Two cats in the yard. Life still is pretty difficult if you can't land on your feet.
Personal Web Site: http://leonardski.com/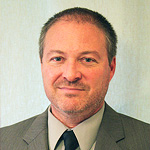 Richard Lubben
Art Instructor
Artist's Statement
Like most artists I am influenced by my surrounding and of course by change. As a student and later as a professional, I had always felt the desire to travel. The unique and various physical surroundings and particularly the cultural difference of various places and people were my inspiration for many years. The time I have spent living in and among Hispanic communities throughout the United States and beyond has had critical influence on my work throughout the last two decades.
The evolution of my work is distinct and dependent on surroundings. It can be seen in several series of works, which combines the histories, community transitions, and the conditionality of several Hispanic communities in the Americas today. My work can be viewed in the context of economic, social and technological developments. My range of subject matter encompasses and highlights several themes including the increasing clumsiness of social interaction in the contemporary world, humanity in traditional communities, exploration of flora and the controversial southern U.S. border and immigration issue.
My recent work is focusing on how technology influences society, culture and most importantly the human condition. My interest started with noticing my own personality changing due to my dependence on technology in almost every facet of my life. I believe this addiction to technology can be related to almost any other dependency creating paranoia and antisocial tendencies. Technologies that were designed as conveniences produce adverse physiological effects creating the illusion of a better quality of life.
These mixed-media pieces utilize copper sheets, epoxy paint, screws, wood, Plexi glass and digital prints manipulated in Photoshop. This post-modern work emphasizes the importance of composition and concept while rejecting classical technique and traditional representational subject matter.
for more images visit http://www.richardlubben.com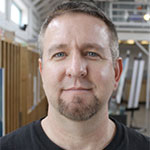 Tom Matthews
Art Instructor
I use mechanically reproduced pedestrian items such as used school chairs, industrial aprons and matchbooks to construct sculpture. I do not alter the items; instead I alter their context by orchestrating their orientation into rhythmic patterns of formal symmetry transforming them from utilitarian functional objects into temporary formal and conceptual sculpture.
Traces of the human experience are left behind on the items and it is this essence or ghost image that I am interested in exploring. My drawings are an attempt to capture this essence in the physical world. There is humanity in each object and they all reveal the touch of a human body. The remnants of those lives left behind and the spirit of what a single item can mean to a person is the essence of what the sculptures and drawings represent.
I feel a sense of redemption, and rescue with these objects, and view the sculptures created with them, as the summation of a sculptural equation. I feel I'm linking the past lives of each item, to the pieces I create. I am recycling discarded items, which touched, both physically and mentally, numerous human lives.
Personal website: www.tommatthewsart.com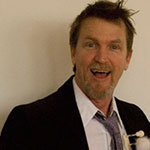 Thomas Murray
Art Instructor
Teaching Philosophy
There are three issues every artist must deal with in presenting their ideas to the public; Craft, Concept, and Aesthetic. The ability to manipulate and develop these key issues is fundamental to any maturing artist. I am keenly aware of the effects I have on my students.
In the beginning, they learn to emulate the craft of their forerunners. As they mature, they develop a set of aesthetic concerns. Eventually students become selective of the concepts they choose to engage. It is my job to guide their progress in learning how to form their personal development.
The introductory classes I teach focus on Craftsmanship. Couched within the "exercises" is an historical survey, with a postmodern idea as its subtext. The subtext can be described as the evolution of ideas, reinforcing the proposition that advanced artists are active, sometimes aggressive explorers of concepts not only philosophical and sociological, but also scientific, introducing and reintroducing the notion of "beauty" in all its expressions. The sequential timeline begins with an exploration of the three dimensional quality of color. This exercise is followed by a study of Master Painting, Cubism/Modernism and Post-Modernism, respectively. As painting and drawing have such a long history I teach in small increments with simple exercises that contain seeds for further exploration. I believe that every great period of art is reinvented by successive generations.
It is important to continue to introduce advanced artists and ideas to our students. We are not concerned that every student understands everything we introduce at the moment it is introduced. Of course students will not fully conceive the depth of what they are being introduced to. This comes with time and commitment. One of my favorite classes to teach is a survey of contemporary artists in a discussion format. This format addresses the fears young artists often experience when confronted by issues that are difficult to grasp. In this environment I reinforce the idea that not everything must be understood all the time, but more importantly, that curiosity pays off in terms of personal artistic growth.
I bring to the table three questions which Robert Stackhouse brought to my studio; "What is it?" "What does it look like?" and "Why do you want it to look that way?" Within these questions is couched a direction to look deeper, opportunities to analyze many of the decisions made, and permission to find more relevant alternatives. I bring to the classroom a broad experience in painting and drawing. The choice to be an artist is one with a complex history, and so is an important one. I am aware my part in the process is one of facilitator and mentor. My goal is teach each artist to achieve a self-sustaining art practice and continuing personal growth.
Artists are the most important people in the world. I believe an education in the arts is crucial to the growth, comprehension of, and functioning in today and tomorrow's exponentially complex society. Art permeates and offers a sense of meaning to our experience. Art is more than knowledge, it is experiential, and I teach my students to approach their art with the same energy I put towards my own practices.


Personal Website: www.tomasart.com
Icarus

Lilith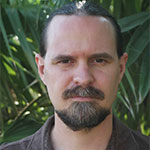 Scott Nicol
Art Instructor
In constructing sculptures of beeswax and uncarved wood, the integrity of the materials continues to play an important role. Though the use of branches to create linear forms grew out of a desire to translate abstract drawings into objects with physical presence, carving and reshaping the wood to fit a preexisting vision would drain it of its vitality. Instead, I search the wood piles at the fringes of cleared land for branches whose serpentine lines loosely correspond with the sinuous tracings that I want to make manifest. The wood, once living, shows evidence of its life in the twists and bends that it retains. Implicit in the sculpture is a sense of motion, the animate qualities that are obscured by the slow pace of a tree's growth. In the work, forked branches resemble hooks, creating a sense of extension and retraction, a reflexive action. Beeswax broadens the narrow lines of the piece, its translucence drawing in light. The beeswax projects forward like a hand or arrowhead, indicating the direction of implied motion. As with my drawings there must be the sense that the work is in transition, its movement and growth the natural consequences of the vitality inherent in anything that is alive.
The forms of both the sculptural and drawn works grow out of local features, stones and trees and streams. The drawn forms are left open, inviting the external space in. Without emptiness there is no potential, no space through which vital breaths may pass, into which animate forms may move and grow. To overload the work, to fill every last inch, would smother its energy. Rather than a dynamic current, at best a shudder would remain, no more potent than a dry leaf.
Education Master of Fine Arts in Drawing - University of Texas at San Antonio
Bachelor's Degree in Art (Cum Laude) - Austin College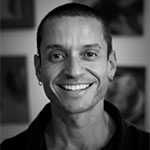 Pedro Perez
Art Instructor
Born in Cabo Rojo Puerto Rico. He has done solo and collective exhibits in Iowa, Texas and Puerto Rico. His exhibitions include traditional and digital techniques. Pedro's subject matter deals with academic issues such as color, form, and shape, but it also deals with issues of childhood memories, self-portraits, maps and sexual imagery. His scientific background has deeply influenced his work, and it always tries to find "logic" on the subject matter shown.

BS in Zoology, BA in Medical Illustration and MA in Painting & Drawing from Iowa State University.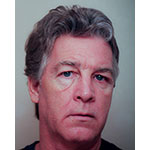 Richard Smith
Art Instructor
EDUCATION
1991 Master of Fine Arts
Texas Christian University
Fort Worth, Texas
1989 Bachelor of Fine Arts with Honors
Corpus Christi State University
Corpus Christi, Texas

Smith conveys a range of influences and surface decisions ranging from heavy/dark paint applications to lighter tonal works. His large painting, "Columbus Dream," combines subtle organic shapes and lines with seemingly effortless intent. The intense color and delicately juxtaposed brushstrokes create an energy reminiscent of the works of Hans Hofmann.

"I studied Diebenkorn and Rothko and Hofmann. Studying those guys was my focus for a long time," admitted Smith. The shapes in Smith's abstract paintings derive from diverse inspirations including the landscape, the weather, music, and personal relationships. -Nancy Moyer
Contact Art Program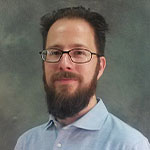 ---
Department Contact
Deborah Ellsworth
Pecan Y-1.304W
956-872-6769
Find your perfect career with a quick online assessment, browse local job demand, and view available degrees!